Gutters Are Crucial for Proper Drainage
Proper drainage is often overlooked because of our desert climate. However, parched soil is particularly susceptible to flooding with only small amounts of water, so proper drainage is important in our area. The right combination of gutters and downspouts can route water away from your home's foundation, preventing flooding and other issues.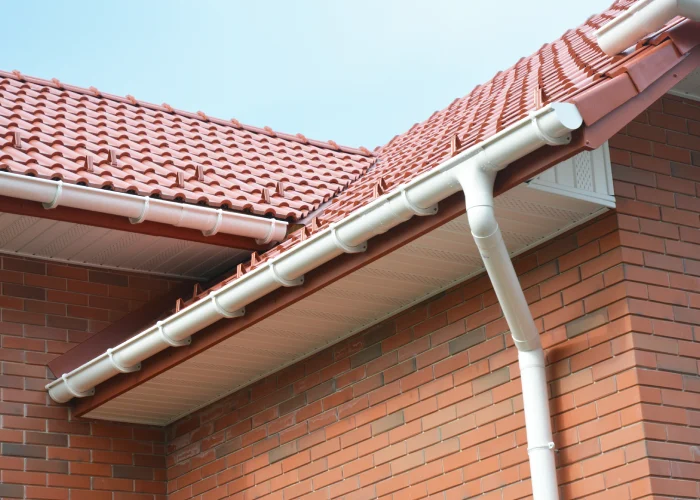 The Five Types of Gutters
Gutters are available in a variety of shapes and materials. The most common shapes are half-round (a half-circle) or K-style (resembling the letter K.) The more important decision, perhaps, is the material that will be used for the gutters and downspouts. Here are some details about the five most common materials for rain gutters.
Aluminum
The most popular material for seamed and seamless gutters
Pros
Can last up to 25 years
Won't rust
Can be painted
Lightweight
Easy
installation
Cons
Vinyl
Lightweight, inexpensive, and suitable for DIY installation
Pros
Lasts about 20 years in mild climates
Won't rust or corrode
Can be painted
Lightweight
Easy installation
Cons
Damaged by extreme heat or cold
Zinc
Popular for high-end and historic homes, highly durable
Pros
Lasts up to 50 years
Won't rust, warp, or fade
Appearance improves with age
Cons
Expensive
Requires professional installation
Vulnerable to salty air or acidic runoff
Copper
A high-end choice for lasting beauty and maximum durability
Pros
Can last up to 100 years with proper installation
Won't rust or warp
Extremely durable in all weather
Develops a beautiful green patina over time
Cons
Very expensive
Requires professional installation
Steel
More durable than aluminum gutters, especially in severe weather
Pros
Incredibly durable
Can endure severe weather
Can be painted
Cons
Heavy
Very expensive
Prone to oxidization after 10-15 years
Gutters Impact Curb Appeal
Proper drainage can improve a home's value, of course, but rain gutters can also impact a home's curb appeal. Beautiful (or beautifully painted) materials can add the right pop of color to help your home stand out in your neighborhood and, when the time comes, on the market.
Additional Remodeling Services
Cover Up Construction offers a number of exterior remodeling services, including siding and window installation. We proudly partner with nearby companies to provide you with exceptional rain gutter installation. If you'd like more information about rain gutters or our installation partners, contact us by phone or email.